Description
Description
The new digital gold standard in weatherstations for professional and sportsman racers. The AltaCom 4xR is trailer-based, fan aspirated, remote sensing professional weatherstation with weather paging, weather texting, weather logging, live ET and TS predictions for drag racers, and extensive tools for improving your racing. Our Digital Sensor measures Temperature, Barometric Pressure, and RH, and converts that data into a digital signal. It also logs weather data on a regular basis for your convenience. Sensor data is captured by Merlin software, which calculates 8 values to give you a full range of information in your preferred format.
Trailer Based (AC Power)
All digital sensing and data. Very accurate under all conditions
3 measured and 8 calculated weather values
4xR console has powerful 5 watt radio to transmit to pager when no cell service is available
Remote sensor may be placed up to 500 feet away with inexpensive cabling. (Comes with 20 ft standard cable)
Anemometer (optional)
System can transmit data to smart phone when wifi or cell service is present at track
System can be powered by 120 vac power adapter (included) or 12 vdc battery
Merlin software handles all data delivery methods, predictions, and more
Optional J-40 trailer wall fitting allows tidy radio and data cable installation solution
All boards are state of the art surface mount construction
Remote sensor board is coated for long life in outdoor conditions
All components exceed requirements for long term trouble free service
Protected by Altalab's long running three year warranty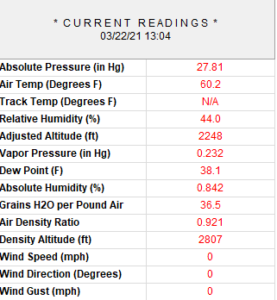 AltaCom 4xR Available Weather Variables
Adjusted Altitude
Vapor Pressure
Dew Point
Grains per Lb
Absolute Humidity
Air Density Ratio
Density Altitude
Pressure Altitude

Merlin Weather Display

Merlin can display Current Readings updating every minute on screen. Merlin also can be set to show Trend Weather updating every 5 minutes and accumulating readings on screen. These data can be viewed as text, as a graph, and saved for later use, such as overlaying different days weather to anticipate daily trends.

Weather and Prediction Paging

One pager comes standard with the 4xR. Additional pagers can be programmed to match. Weather variables can be selected to show/not show in the pager to simplify the data you see in each transmission. Up to 5 separate ET and or TS predictions can be created and transmitted with weather information. Merlin has powerful tools for ET and TS Prediction. Manage multiple users, fuel and jetting changes, reveal mechanical inconsistencies, spot bogus runs, refine predictions and more.

Weather and Prediction Texting

If you have a hotspot at the track, Merlin with the 4xR can text and email weather and predictions to your smartphone.

Specifications

AltaCom4xR Digital Sensor

Durable ABS
milled vents
powerful ventilation fan
Aluminum Solar Roof with Standoffs
CAT5 port
RG-11 (for optional anemometer)
PVC Mounting Mast

The Sensors

Temperature 0 – 125 x 0.1F x 1% Semiconductor with a linear output.
Relative Humidity 0 – 100% x 0.1% x 3% IC (Integrated Circuit) with linear output and multi-point calibration for full scale repeatability.
Absolute Barometric Pressure 21 – 31.5″Hg x 0.01 x 0.1 IC with built-in signal conditioning and temperature compensation.