Shipping and Return Policy
Welcome to the Biondo Racing on line catalog. You can browse our products by category by following the links above. When you order online you will get $10.00 UPS Ground service shipping you can also receive $10.00 UPS Ground service shipping by mentioning our web site when you order by phone toll-free at 800-332-1320. (For all orders over $100, shipped to the Continental United States – $10.00 ONLY for handling will apply).
Payments accepted:

We would like to give you the best possible price, if you see something priced less elsewhere, be sure to CALL US LAST or E-MAIL US for the best price! And along with the best price, keep in mind the range of experience that backs our products : We have experience ranging from Street ET track championships (in 16 second cars) Divisional E.T. Championships to Super Stock Competition Eliminator World Championships.
The chart below shows how long it will take to receive your ground shipping packages from Biondo Racing Products. (We are located in New York). Faster shipping methods are also available, and can be chosen after you add an item to your shopping cart. All orders placed over the internet before 2:00pm (Eastern Standard Time), will be shipped the same day.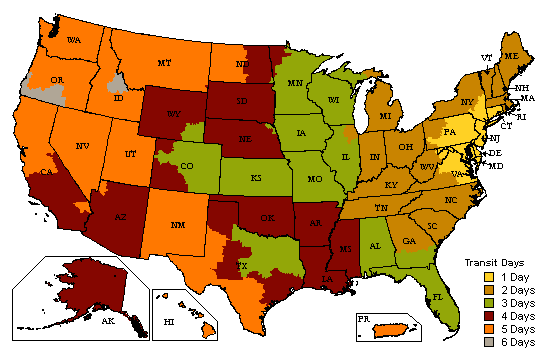 Click Here for full Shipping / Return Polices
RETURNS / EXCHANGES
EXCHANGES: Wrong Fit? Change your mind? Exchanges are NEVER a problem, you can exchange an item, for just about any reason, and we can turn it right around!! Ship it to us, and tell us what you would like in return. Pay the shipping to us, and we will pay the UPS ground shipping back to you.
RETURNS: to Biondo Racing Products Inc., can simply be shipped back with a copy of the original invoice, a note, and a daytime phone number. Returned products must be new, unused, uninstalled, and complete with all parts, including original shipping package. There is a 15% handling charge for returned merchandise. Shipping charges are not refunded. There are many exceptions to the 15% handling charge. 15% is specified to cover our butts, but normally it's only the charge of the credit card transaction fees, resulting in charges much less than 15%. Holiday season purchases have NO return fees, or other times when you purchased an item as a gift, then the 15% can again be waived to MUCH lower percentage, it is a case by case basis.